Join Scouting!


It's Fun!!!



Welcome Letter



Parent Guides:


Tiger Cubs (pdf)


Cub Scouts (pdf)



Leader Guides:


Leader Guide (pdf)


Leader Materials


ClipArt for Leaders


Join Cubby Slide Show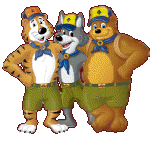 The "Join Cubby" kids are promotional trading cards. These have been used by the former Viking Council and have been distributed at the Minnesota State fair and at Join Cub Scouts Events.
The ScoutingBSA.org web site is a volunteer effort. Suggestions for improving the site are welcome! Please share your comments with us using our on-line form. Problem reports may be sent to the Webmaster. Our goal is to improve communications and to advance Scouting in Minnesota. Thank you for your input!
Last Update September 17, 2006