Scouts began ushering at the University of Minnesota football games in 1924 as a service project. This has proven so successful that it continues today - over 75 years later!

Scout Edgar Piersen of Minneapolis was chosen during this same year to represent the Minneapolis Boy Scouts at the World Jamboree in Copenhagen, Denmark, and on his return he held a public meeting at the American Legion Cub at 1000 Hennepin Avenue to report on his trip.
On February 12, 1925, as a part of Boy Scouting's 25th anniversary celebration, five Scouts from Hennepin County too part in a special radio program on radio station WCCO. The Troop 2 orchestra, the Glee Club of Troop 15, and the Scout Drum and Bugle Corps directed by A.M. Gordon took part.
Scout Howard Sallows of Minneapolis received the National Court of Honor Gold Medal Award on February 11, 1925 for valor in Life Saving. This was the first Honor Medal a Scout from Minneapolis received. Howard, age 16, was skating with a friend on Glenwood Lake when they heard a cry for help. Risking his life, he pulled a man from the icy water and saved him from drowning.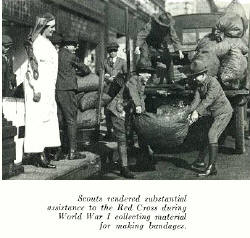 By 1935, Scouting in Minneapolis had grown to over 4,900 and 24 young men had earned the rank of Eagle Scout. Scouts continued to serve the community by helping distribute 80,000 Community Fund pamphlets, and gathering clothes in the annual "Share Your Clothes Campaign." A total of 58,000 hours of "Good Turns" was racked up that year.
Scouting again had a role to play from the beginning of World War II. Gasoline rationing, rubber and metals shortages forced Scouting to rely strongly on its neighborhood concepts and the strengths of its family oriented programs. During 1942, 1,800 Volunteer Leaders were replaced because of the Draft. On Scout Troop had four Scoutmasters in a period of only 60 days. The country was at war and Scouting knew that it must contribute - it willingly accepted the sudden challenge.
The ScoutingBSA.org web site is a legacy site of the Viking Council BSA, now Northern Star Council.
This site was the original council site and was active from 1996 to 2002 and run by volunteers. As the web became more important to Scouting, the council took over with paid staff. This site is no longer maintained but is an interesting snapshot of an early Scouting web site. You can share your comments
using our on-line form or send a message to the Webmaster. Thank you for visiting!