Choose Item:

Ranks


Tiger


Bobcat


Wolf


Bear


Webelos


Arrow of Light

Activity Pins


Aquanaut


Artist


Athlete


Citizen


Communicator


Craftsman


Engineer


Family


Fitness


Forester


Geologist


Handyman


Naturalist


Outdoorsman


Readyman


Scholar


Scientist


Showman


Sportsman


Traveler



Awards


Webelos Super Achiever


Conservation Award


Compass Points


Arrow of Light

Sports


Belt Loops


Letters


Pins

Academics


Belt Loops


Letters


Pins

Did you earn all of the Webelos Activity Pins?
If you did, you're a Webelos Super Achiever! To earn this award, you must earn all 20 activity pins while you are a 1st and 2nd year Webelos Scout.
This can not be earned after cross-over to Boy Scouts, which is generally the Arrow of Light Ceremony.
Note: This award appears to have been discontinued by National BSA and
patches are limited to Councils that have product on hand.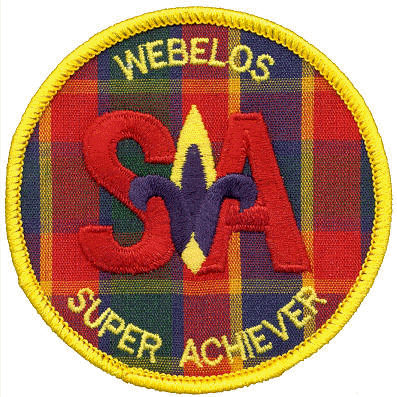 The ScoutingBSA.org web site is a volunteer effort. Suggestions for improving the site are welcome! Please share your comments with us using our on-line form. Problem reports may be sent to the Webmaster. Our goal is to improve communications and to advance Scouting in Minnesota. Thank you for your input!