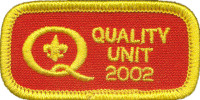 The Quality Unit Awards are one of a series of ways that the BSA tries to recognize units and individuals within those units that have strong, quality programs.

Background and History
The Quality Unit Program was first introduced in 1986. The Quality Unit program is an effort to recognize units that have met specific requirements established on a charter year basis.
The ten categories for the unit-level award -- six of which would quality a unit for this award -- are listed below. Four noted categories are required. These requirements can change every two years to reflect current programming.
Packs that meet or surpassed their unit goals receive a special flag streamer and have permission to purchase uniform emblems to be worn below the Den medallion, on the right sleeve, as a permanent award.
In 1990, the BSA revised the Quality Unit program to only allow the most recently earned quality unit award to be worn. This eliminated shirt sleeves that had lots of these patches. Scouts and their leaders had tended to wear all of the Honor/Quality Unit emblems that their unit has earned since "the start of time".
The Requirements
(* items required)
*Training: The Cubmaster and at least 50% of the Den Leaders will complete Cub Scout Leader Fast Start Training and Leader Basic Training for their position
*Two-Deep Leadership: A Pack will have one or more assistant Cubmasters registered, trained, and active. One registered adult is assigned responsibility for Youth Protection training.
*Outdoor Activities: The Pack will participate in one or more of the following experiences: Cub Scout Day Camp, resident camp, family camp, Webelos Den overnighter(s), and/or other activities conducted or approved by the Viking Council.
*On-Time Charter Renewal: The Pack will complete its charter renewal before its current charter expires
Pack Meetings: A Pack will hold a minimum of nine pack meetings per year, and the Pack will earn the National Summertime Pack Award.
Tiger Cubs: There will be one or more Tiger Cub Dens in the Pack.
Service Project: The Pack will conduct a service project annually, preferably for the chartered organization or community.
Advancement: Seventy percent or more of the Scouts will advance a rank, or the Pack will have a ten percent increase in total rank advancement over a year ago. Approved ranks for this recognition include Bobcat, Wolf, Bear, Webelos and Arrow of Light.
Boy's Life: A subscription to Boy's Life will go into the homes of all our Pack members, or the Pack will achieve a ten percent increase over a year ago.
Membership: The Pack will renew its charter with an equal or greater number of youth registered over a year ago.