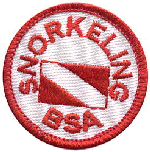 (SEE APPLICATION FOR SNORKELING BSA, FOR DETAILED REQUIREMENTS)

1. Pass Swimmer test.
2. Explain buddy system.
3. Define snorkeling.
4. Demonstrate use of mask and snorkel.
5. Demonstrate use of swim fins.
6. Perform deepwater demonstrations.
7. Recover objects.
8. Explain snorkeling preparation and precautions.
9. Discuss submerged-related factors.
10. Discuss submersion effects; CPR.
11. Explain hyperventilation.
12. Explain hypothermia.
13. Demonstrate diver's signs and signals.